This post will be about my first festival I came to attend this trip. Not an Idol Koushien this time, although I had the chance for it yesterday. But the only group that had my interest there would have been Grazie3 and as I haven't seen them live before, there was nothing I would have missed when not going. Going to Chiyoda Park with acquaintances was much more worth it. That day my options were quite diverse: PPP!PiXiON had their regular live (I missed out PiiiiiiiN's at the same venue yesterday for the sake of Bellring Girls Heart) and Lovely Doll performed a One Man, wich was also Yuki's graduation show. Instead I decided on a festival at Shinjuku ReNY, an already well-known venue to me from my last trip, simply called ReNY Super Live 2015 Vol. 4. It started quite late at 15:00 and the reason I wanted to go there was it having Chu-Z in the line-up, my only chance to see this group this time and in comparison by far my favourite from the shows this day. I forgot what I did before going to the venue, but anyway I arrived on time for the start of the festival, buying myself a ticket at the door. Many fans choose to enter a festival only for their favourite group or, in case they work or have school, arrive later in the day; this fact quite easily observed when you see the small amount of fans around when going to the early shows. Not even 20 people where present when the first group performed. No wonder groups try to get scheduled late during an event.
This didn't keep me from enjoying the show. It is always great to experience new groups and get acquainted with the diversity of the phenomenon that is called idol. Seeing JASPER for example, a new group consisting of former Racing Queens, as I learned later on, was quite interesting. With their tight uniforms (leatherly hot pants) and their dancing as well as musical style they reminded me a lot of K-Pop groups. I liked their performance quite a bit. At least Shaun should appreciate their looks as well.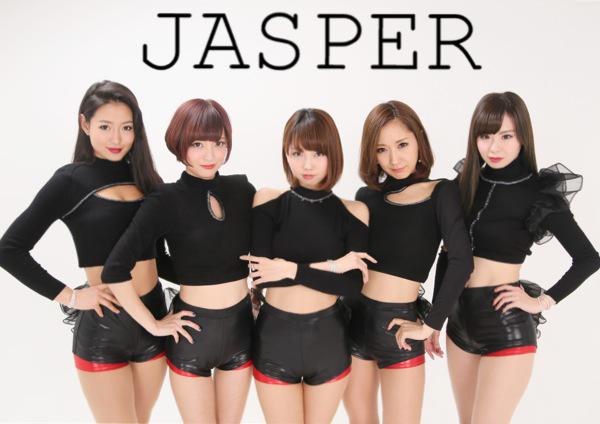 Other groups of interest would be WenDee, if only for having supported Chu-Z during their One Man in January, as well as DoMeBaby and DoraDora, the first being a rock idol group doing a cover mix, or rather interpretation, of Europe's famous song Final Countdown as well as KISS' I was made for loving you. In a strange way very enjoyable live.
Chu-Z turn came quite late and with a strange scheduling, having a buppan before the performance as well as afterwards, the first time I observed one such thing. In the meantime I was joined by Eddy, who had nothing better to do, quite surprising as he likes Maya from Lovely Doll. But it seems Kamiyado, a group that performed that day at ReNY, has captured more of his interest. Anyway what do expect me of what I have done? Taking part in the first or second buppan? Right. I took part in both – of course 😀 But let us keep the continuity. Checking again on Twitter that the first event will take place as scheduled I went out to the bar area – perfect spot to find for a foreigner – and waited for the arrival of the members. The staff was already putting up the table, which as it mostly does, didn't feature any merchandize on display. It can be that they have some of it in a big suitcase, but this day nothing. I made sure of it by asking. So again nothing to express myself as a follower of Chu-Z. After my last great experience with them I shortly considered buying a harem ticket again, but my fear of Kaede won over me – and my lack of anything to talk about. Instead I just paid for one ticket, for a meet and greet with Asuka. While looking around I saw Yutan arriving as well, dressed in a suit, as he just rushed from work to the venue. We chatted a bit and he acquainted himself with Eddy, who was finished with his events for now. It didn't take long for Chu-Z to arrive – and for Luna to obviously recognizing me, putting up a big smile and waving at me! Oshi-Conflict once again… Even Kana and Miku looked few times directly at me, but I couldn't tell if I was still on their minds. Which is good as I have to talk with Asuka – stay strong, stay strong, stay strong! As the other fans were already forming lines I escaped any temptations and followed Yutan for Asuka's queue.
It took a while until it was my turn but after greeting her, she approached me with remembering me from few months ago and me being a friend of Yutan. Isn't she great? After letting her decide on a pose, which became the Love Parade one I raved so much about here, I told her how much I loved their One Man on January 3rd. She needed to think a bit but then knew what I was saying, thanked me and told me of seeing me there. Let us just believe the last part… She told me to come see them again and I agreed on it wanting to go – the usual idol talk. But I was very satisfied – Asuka being as sweet as always.
During my time waiting for Asuka in the queue the lines for the other girls were not that frequented, so my eyes often met with theirs. And what shall I say – even Kaede made a nice impression this time, even smiling. As she seemed to attract the least attention – apparent by the fact that she was doing promotional chants for people to line up for the group – I contemplated of talking to her. But no, I had no self-confidence. The opposite of what was happening with Luna: My little puppy from last time frequently looked and even winked at me, so I did the obvious: Buying another cheki ticket! I could go straight to her, as no one was lining up for her anymore – and it was a blast! In her usual way she tried talking much in English, which is quite good for idol standards. Me on the other hand tried to reward the favour by using as much Japanese as possible. Her first words, before I could talk were 'Long time no see. You are already back in Japan?'. I showed my surprise in her good memory and then she answered by telling me it was at Zepp Tokyo in winter. I was lost for a moment as I forgot about the schedule that time, still thinking of the venue I went first that day in Shinkiba. She pouted and inquired if I had already forgot about Luna (That's right. She refered to herself with her first name. How cute!). I immediately denied the assumption, telling her I just forgot about it being at Zepp Tokyo and that I wouldn't forget Luna in any circumstances. Hopefully I got this across. Luna then wanted to know if it was my first time at Shinjuku ReNY, and I told her that I have been here before, choosing my first attendance there as example, the One Man of Predia. Again a mistake, as immediately I was asked by her which I like more: Chu-Z or Predia. Of course I said Chu-Z, as it is the truth. Luckily I was clever enough to hide my favouritism for PASSPO and Bellring Girls Heart from her. Little secrets are allowed! But from this conversation I learned, that my task gets more and more complicated: I now have to be more careful and prepared when revisiting my favourite idols. But honestly, this meeting with Luna was easily as great as the one I had the day before with Ayano. I could have happily died again if I wasn't already dead from yesterday's experience. Which makes me thinking: How did I revive? Or didn't I?
The buppan was still going on but as I wanted to flee more temptations and Eddy had his favourite group performing on stage, we went inside again. After Kamiyado and some other group it was Chu-Z turn to perform anyway and as a second buppan was also scheduled, as I have already mentioned, there were no harm done. The live of Chu-Z became an event itself for me. As it was pretty easy to go up to first row not only I had a great view on them but also they on me. Damn onbearing their smiles at me, mostly by Asuka and Luna, who even made little interactions with me. But also Kana and Miku approached me several times. Girls, this makes me embarrassed. Have mercy! The set list on the other hand was not to my tastes. It missed the party songs and they only performed four tracks: Chu me now, a.no.ne, Love Parade and last the great idol hymn Girls on the run. But who cares for songs when you get so much attention by the members?
Right after the live I went back to the bar area, only to talk further with Yutan and observe the event from the side lines – this happened to be my plan. But as we were standing so close by, Kana always in my field of view and even Eddy finally deciding on a cheki with her, I couldn't withstand any longer and bought me another ticket. I am weak. But I can't help it. Their begging eyes on me, telling me to spend my money for some seconds of bliss. Hedonism in its purest form! As the staff member was still talking with another fan I prepared Kana for our meeting and gestured at her that I will talk to her next. Her smile didn't left her face so she seemed not to mind, instead shouting a 'I am waiting' at me. When finally there she received me with a knowing glance, bringing the Zepp Tokyo show to topic and about her seeing me there. Meanwhile I let her decide the pose and we then continued chatting about the One Man and other stuff. Funny was when she asked me about my name and mistakenly wrote it wrong. But I reassured her with my reply of it now being something 'special'. This made her laugh. I withhold the piece of information that Yuriko from Lovely Doll offered me the same specialness. The little secrets, you know?
After the event was finished – we stayed until the end – me and Eddy walked together to Shinjuku station, where we parted from Yutan. In the neighbourhood we found ourselves a café where we chatted for some time until we separately made our way back to our hotels.