It was friday, the 27th of March – time for another Idol Koushien. This time it was a small one with just 5 groups in the line-up, being: San Minutes, PiiiiiiiN, JyuJyu, PassCode, NanoCune. My main reason to attend, besides it featuring PiiiiiiiN and JyuJyu, was my schedule on the coming Sunday, which had the Two Man of the first and an One Man of the latter on plan. Great way to bring myself to their attention and to get myself used to their performances again. This was important to me, so I withstood Allan's persuasion attempts for introducing myself to his favourite group Fruity. Sorry, mate!
The Koushien itself started in the late evening and took place in Shibuya GLAD, a first for me, but easily to find as it is situated next to the famous O-West, O-East and the likes. Nevertheless I had to go around the whole building to figure out its entrance. Yes, it is that hard to find as the obvious door is closed for staff, I think, and the "real" entrance goes up a walkway which just looks like a delivery platform. Anyway, found my way in and had to go through a tight floor, where a staff person was seated behind a small table to check the ticket. Of course I named PiiiiiiiN as my group of choice and went in. After a small staircase you get into a nice Bar area (with the menu being displayed on a monitor – fancy) and at the left-side end you can access the venue itself. As it didn't feature that many groups I went to the venue in time to find it filled to maybe a third. As San Minutes was first – under Platinum Records agency by the way, so a sister group of PASSPO – I positioned myself in the back, right side, as I mostly do, to give fans of the group enough space. I too like the sound of the girls but am not interested in following them more than necessary. I have to take care of my money once in a while. Funny fact: One of the member's name is "Watanabe Mayu". My favourite, if I had to choose one, would be Minami Ayaka. When San Minutes will release an album in the future I will absolutely buy it. Songs like Make a fire are just my style, when it comes to electronic music. One member is missing in the video though!
Next group on stage happened to be JyuJyu. I wrote often enough about them, so no need to introduce them. What was great that day was their costumes: Instead of their usual black long dresses they wore something completely opposite: A colourful Japanese-style Yukata, which left the legs bare! The girls made fun of it though as the dress happened to have long extensions at its sleeves, therefore they always got those in their faces. I like their comments on stage. You have to see it live once to appreciate their adorable speeches!
For the show of JyuJyu I already positioned myself closer to the stage, but now I went as near to it as possible – PiiiiiiiN would perform now! The introduction music of them was the same as always, but that day I would see them in their new uniforms for the first time – a completely different style to them as well, but in contrast to JyuJyu it was conceived as a long-lasting change. For the unlikely case of you not remembering how they looked (Shame on you, if you haven't read my past posts about them yet!), here is a picture (by the way, still with Nina in it instead of Arisa):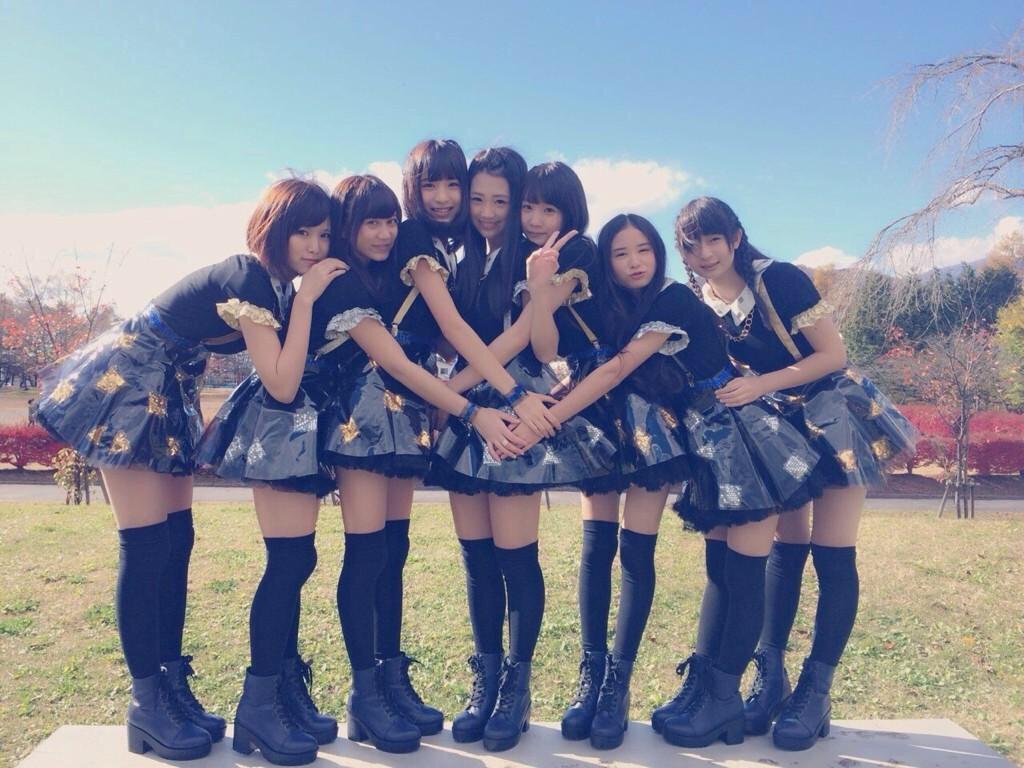 Now they look like this – colour-coded. I hope you can make out the difference:
What to say about it, despite my confusion, why Hara-chan looks so much smaller in it, while Ami is that tall? First thing: I am glad, that my oshimen here, although wearing it on the photo, doesn't wear a police hat on-stage. More troublesome is the light blue colour of her jacket, which in my opinion doesn't suit her type. Luna with the bunny-like ribbon and Ami with cat ears look cute. They just overdid it with adding a cat tail as well on her skirt. Also I don't agree with the shoulder pads: It makes her look more short and compact than she really is. Poor Riko on the other hand, with her hat she must have lost a bet or something. Arisa and Emiri, with their baretta-like head wear, looking okay. The best option it seems was obviously done with Rizu, with just giving her a twin tail. But this is only true for people who have never seen her with open hair before. The backside of her jacket in addition displays a huge vampire mouth, which reminds me a lot of the TV-show 'True Blood'. I don't consider it cool, putting sweet Rizu-sama on the same line as the infamous fangbangers from the show. But to be positive: I am glad again to have chosen Hara-chan as my oshimen, otherwise I would have been forced to wear pink!
Aside from their new looks PiiiiiiiN also introduced two new songs in their set, Suzume Glory Days and Ready go for it, with the latter taking a bit to get used to with its techno-beat in the interlude parts of the song. I will review them in more detail in my post about the Two Man. Otherwise the show was the ordinary one and seemingly none of them remembering me from winter, as I got no looks or anything. Anyway a nice set and a good opportunity to furicopy some of the moves I still struggle to do.
PassCode came next on stage while NanoCune finished last. Nothing much to talk about here as I used their performances to redeem my drink ticket and rest for the events later on. But I like to add, that I wasn't the only foreigner this time around. A guy, close to my age, was there in company with a Japanese friend – more about him later – as well as an older man, who watched all the performances from the back of the venue; never moving or showing any signs of emotions towards it. I just tried to stay away to avoid the impression I belong to him.
After the performances finally ended, which seemed endless to me with the indifference I have for PassCode and NanoCune, I prepared for the events. Well, easier said than done as I had no idea how and where it was held. Five groups needed to be fit in the venue, which left the stage area and the bar area. Believe me when I tell you that this was an impossible task! I was running, or more like squeezing my way back and forth from stage to bar with no concept or leads for any locations. At last I just decided on staying in the stage area, which offered the most space and got lucky: The table for PiiiiiiiN was prepared, as signified by the nameplate. Next to it San Minutes buppan was arranged. Too bad it not being JyuJyu, as this would have assembled the groups in whose events I wanted to take part that day. You can't get everything…
Not long afterwards, the members of PiiiiiiiN were coming out, and fans queued up in one long line, holding name plates of the members they wanted to talk to. But I first had to get me some merchandise for an event ticket. I wasn't in the mood that day to buy or talk a lot with them, so I just opted for their new released single. This had cost me 1,000 Yen and provided me with one event ticket, which turned out to be – class C. Damn it, only the 2shot with mobile phone without added time for conversation. But who cares? This way I wouldn't need to think of topics to talk about and was still able to get myself in focus of Hara-chan again. On the single cover by the way Ami looks as if holding the hand of her boyfriend! I was shocked until I recognized the clothes of the person in question, disclosing it as another member of the group. Phew! Scandal averted!
During the sale process I was able to look at the members but again saw no reception of them towards me. I admit that it was a bit of a let-down – after the events from winter I expected more to be honest. But I had to learn, that a visit every few months just wasn't enough to stay in every idols mind – at least not in the case of PiiiiiiiN. I have to attend another Bellring show therefore soon. Ayano will certainly hug me for consolation. *dream* Aaaaaaahhh!!!!
*rude awakening* Now to find my spot in the queue of fans was my next task – and I had no idea. Do I need to line up at the end or squeeze myself in behind the name plate of Hara-chan? I decided on the less troublesome choice and queued up at the end of the line, in the assumption that the situation will clear up by itself. And so it did: Some staff was asking me for whom I was lining up and showed me to the correct position. YES! The downside for having the leader of the group as favourite member: The waiting time for your turn takes quite a while. The system of providing one, respectively two minutes of conversation time with the corresponding event ticket just adds to this. But this is the cross a fan has to bear. While still waiting I was inquired by an older fan who also identified himself as a fan of Hara-chan. He was curious of my PiiiiiiiN fan shirt, asking me if I purchased it in Shibuya. He seemed to believe me being there for the first time and that I probably have bought the shirt at some kind of resell-store. He was a bit surprised when I told him about having purchased it in winter at an Idol Koushien.
Now the time for me arrived to meet with Hara-chan. I had no idea how to start conversation. So my plan was simply to say hello and hoping for a question from her. I stepped closer, still not in close range when these words were approaching my ears: "Hisashiburi, TOBI-san!" Hara-chan remembered me!!! But not only that, she remembered even my name!!! Instant death of happiness, now for real!
…
…
…
This would have been the case if not for the curse-idols JyuJyu at the venue, which power kept me in a limbus state between life and death. So I carried on, showing my surprise of her impressive memory skills. She just replied with an "Of course I remember." and winked at me. We then hurried up for deciding on a pose. My intend was to put each others fists in the air and cross our arms like that. But when we finally acquired this pose the staff prohibited it, because of the touching skin, I assume. Never mind, the photo turned out well with the slightly rearranged stance. As I only had the C-ticket, we had to separate soon after, but the time was sufficient enough for Hara-chan to ask about me coming to their Two Man in two days as well. Of course my answer was affirmative and she showed a great smile in reply, seeing me off with an "See you then." Ahhh, I still get goose bumps, when I think back to that time.
After this grand experience I was seriously considering in overthrowing my initial plan of only talking to Hara-chan and purchase more tickets for a meeting with Rizu-sama or any of the other girls. But with my conversation with Hara-chan I only accomplished the first part of my intended task. Now my next step should be participating in the event by JyuJyu, if only for showing my appreciation for resurrecting me before. That is what I did. I left the stage area for the bar and had to find my way first: While being filled with people like the subway during rush hour, I needed to figure out, where the event of JyuJyu was located. Luckily I am not tall, but the majority of Japanese fans are smaller than me, so with a quick look around I spotted them, of course in the left corner, farthest away from my current location at the stage entrance. That meant to squeeze myself through the crowd of NanoCune fans, passing by the PassCode event and finally, after much confusion, accessing the queue for JyuJyu.  I had no idea how their events are conducted but my intention was a 3shot with both Shirai and Neu. If only 2shots would be available my member of choice would be Shirai. The waiting line moved very slowly, as the staff in charge of sales also did the photo shooting for the 3shots. 2shots were done by the respective free member. Some positions before me in line the foreigner guy was queuing up as well. When finally my turn arrived I looked at the merchandise board displayed on a table and chose the only available option of 2shots and also bought me the new single release. I had no idea, how the other fans got the 3shots done but didn't have to wait long for an explanation: Of course while still packing my purchase the next fan in line was buying some other stuff which made the staff move some items on the table. The effect being now that another option was visible on the merchandise board: The intended 2shot. I swore inside and was seriously contemplating of exchanging my event ticket but refused to do so to keep up a cool demeanour, while queuing up now for the cheki line.
My turn came up and the staff was approaching me with the question of whom I want to take a photo with. In his voice I could recognise his doubts if I actually knew the group, so he was apparently pleased when I told him about my decision to take a cheki with Shirai. She greeted me with a professional demeanour, obviously in doubt how to handle another foreigner. So I broke the ice and started with a "Hajimemashite". She replied in the same manner and was a bit less tense now. It helped, when I also directed some words towards Neu, who prepared the camera and asked for the pose. When I showed reluctance, Shirai offered the JyuJyu pose, my favourite choice as well. After the shot was done, I could continue talking with them about their dresses as now a problem arrived: Both were trying to tell me something about a sign on the photo, but no one understood the other. I only made out that a sign wasn't possible that day. Neu for example made a cross with her arms to emphasise that. But this couldn't be the whole meaning of it, as now the staff showed me a book full of chekis from other fans, already signed. My assumption was that they wouldn't sign the cheki directly but instead collect it to sign it later on to hand it back during another event. But to avoid any further delay I just said, I am fine with the way it is, without a sign. Neu convinced Shirai and the staff about my decision, repeating my "daijoubu" to them. This allowed me to direct some further words at Shirai, so I told her about me attending their One Man on Sunday. A calm "Ureshii" was the reply. Shirai apparently still being cautious of me. But I didn't mind that. Not every idol can deal with a foreigner who only speaks awkward Japanese.
Now I was finished but stayed to observe the things going on. It wasn't as pleasant as the place wasn't getting any less crowded, but it was interesting nonetheless. While staying around the foreigner guy was approaching me, obviously having trouble with finding the queue for PassCode. I helped him find the way. It seemed to be his first time at an idol event. I also came to the awareness, that the stage area was closed now and the event of PiiiiiiiN was relocated to some staircase near the entrance, an even more difficult-to-access place. To my disappointment they didn't seem to offer any more sales, so therefore no way for me to acquire further event tickets. So I soon decided, for the need to get some fresh air and space, to leave the venue and return to my hotel. That's what I did, still smiling inside when I remembered my meeting with Hara-chan and already in participation for the next day, which would, amongst other things, let me see Hachake Tai, and therefore Yukimi of PASSPO, again.
---
As I forgot to post the recent exceptional well-shot Bellring Girls Heart live video on Youtube in my last post (I included it later on there anyway), I will post it here again. There can never be enough of Bellring Girls Heart, can't there? Great set list, lightning, camera and fan interaction displayed here, catching everything that makes their shows so fabulous. Even better than the official released Live-DVD.
And for Shaun a special treat, as he seems to not get enough of JASPER. I still can not find any live recordings of them, but there official twitter is https://twitter.com/jasper_0321, which also links to their official blog ameblo.jp/jasper0321/. It may be of interest that they occasionally seem to appear as maids in Akihabara, as seen in this pictures: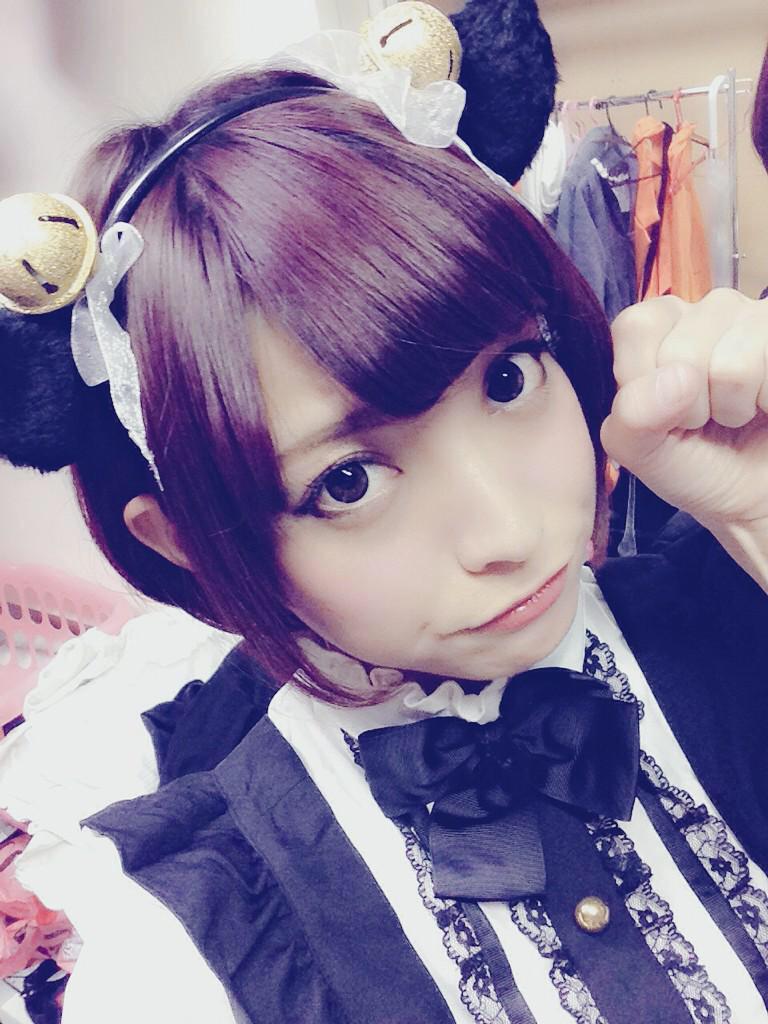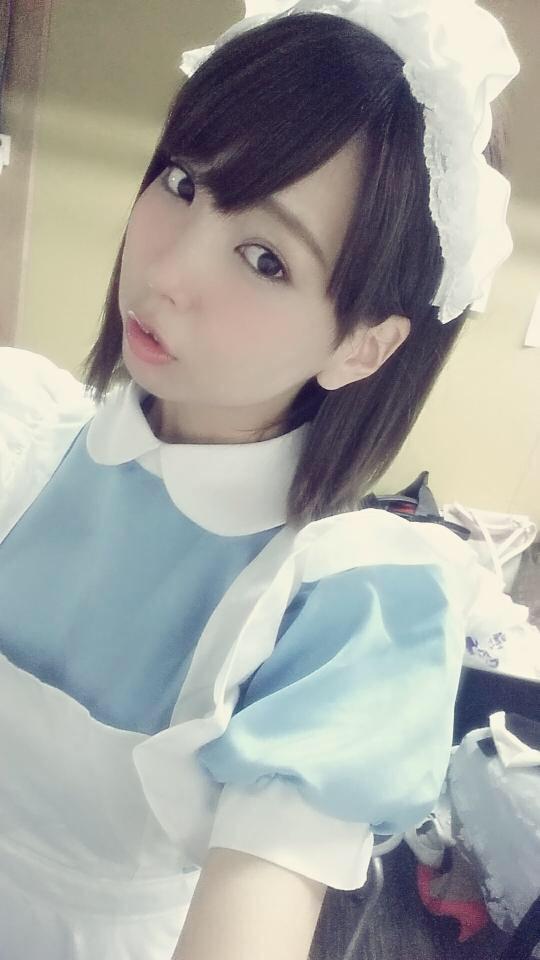 And a photo of their uniforms they wear during live performances.